Description
The Bosch 1700A mini grinder, featuring a 7 amp motor and 11,000 rpm no-load speed, includes an AC/DC switch, making it compatible with the DC outlets on welders. The grinder offers a 5/8-inch-11 spindle for mounting the most popular accessories, and its ball-bearing motor and output delivers smooth performance and long life. Its two-position side handle is angled for comfort, and the user can make quick guard adjustments without tools. The unit's ServiceMinder brushes take the guesswork out of preventive maintenance. Standard equipment includes guard, side handle, flange kit, spanner wrench, and a metal grinding wheel.
FEATURES
7 amps, 11,000 rpm
Lock-on/off switch for extended use applications
AC/DC capability extends the versatility of the tool by working from DC outlets such as those on welders and generators
Sealed switch keeps debris out of the switch mechanism and extends switch life
Service Minder brushes eliminate guesswork, stopping the tool when preventive maintenance is required
Epoxy-coated field windings provide ultimate protection against abrasive dust and metal debris
5/8-inch-11 spindle offers wide flexibility for mounting most popular accessories
Spindle lock for quick wheel changes
Tool-free adjustable guard ensures quick guard installation and adjustments
Double-insulated, UL-listed, complies to OSHA
SPECIFICATIONS
Rating: 120 volts AC/DC
Amps: 7 amps
Max motor horsepower: 1.1 hp
No-load speed: 11,000 rpm
Wheel diameter: 4-1/2 inches
Cutoff disc: 4-1/2 inches
Dry diamond wheel: 4-1/2 inches
Sanding discs: 4-1/2 inches
Wire cup brush: 3 inches
Wire wheel: 4 inches
Spindle thread: 5/8-inch-11
Length: 11-1/4 inches
Weight: 4.7 lbs.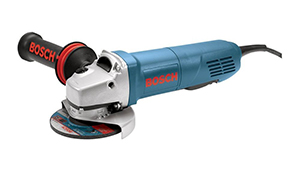 * Prices are subject to change. Tax and other fees not shown in above price estimate.