DESCRIPTION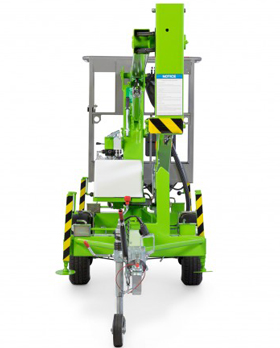 Nifty Lift 34' Platform Tow Behind Lift Honda Gas Engine with Manuel Outriggers / Stabilizers Model Number TM34MG. The Nifty TM34 is a robust and versatile towable cherry picker. It has retractable axles that allow it to pass through a 3ft 7in wide opening or doorway giving better access to applications. As standard, the TM34 comes with manual outriggers which are cost effective and simple to set up. Machine operation is quick, easy and precise due to reliable fully proportional controls and its versatile battery power pack enables the TM34 to work inside and out quietly and with zero emissions. The TM34 is a fast, cost-effective and safe alternative to ladders and scaffolds.
Fully Proportional Hydraulic Controls: Simple, reliable & easy to maintain
Bi-Energy Available: Optimizing utilization
Weight Saving Design: Easily towed & maneuvered on site
Telescopic Axles: Access through double doorway openings
* Prices are subject to change. Tax and other fees not shown in above price estimate.