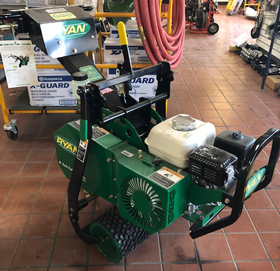 Providing more productivity, precision, and control, the new Ryan® Jr. Sod Cutter – Hydro has the features you need to power through the cut. An exclusive Ryan® designed hydraulic cooling system and Hydro-Gear® BDU transmission give you unrivaled durability and reliability for maximum productivity. Independent of the cutting blade, the variable speed hydrostatic transmission has both forward and reverse drive for incredible versatility. Plus, your arms will thank you after experiencing a vibration reduction of 75% thanks to Ultra-Low Vibration Technology.
FEATURES
Commercial Hydrostatic Drive: Variable speed hydrostatic transmission produces torque and smooth speed control on flat and sloped landscapes.
Intuitive Controls: Intuitive controls and color coded interface makes for easy operation and set-up of blade depth and angle for precise cutting.
Easy Steer Technology: The pneumatic rear caster wheel can be locked to hold straight lines or unlocked to allow easy maneuvering tightly around curves with unmatched precision.
Cast Iron Gear Case: Ryan's signature cast iron gear case encloses oil lubricated final drives to both wheels and cutting blades.
Low-Vibration: Dashboard controls feature Ultra-Low Vibration Technology to reduce operator fatigue.
* Prices are subject to change. Tax and other fees not shown in above price estimate.