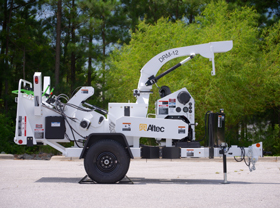 The DRM12 is a 12" control-feed drum chipper with a 20" pivot style side feed roller that is powered by a 32.2 cu in. motor. It also features an Altec Controls electronic feed system to optimize the feed control process. The DRM12 offers a rear tire changing jack attachment, standard lift cylinder, hand crank chute allowing 360° rotation and hand crank height adjustment. The patented Panic Bar is standard and available in green or red.
FEATURES
Feedsense® Electronic Feed Control System
2 Double-Edged, Hardened Knives with 2 Knife Pockets Located at 180°
Double-Fin Rotor Increases Airflow and Improves Discharge
Rotor-Lock Pin Holds Drum Stationary to Increase Safety
Hydraulic Tank with Sight Gauge, Thermometer, and In-Tank Filter
Corrosion Resistant Powder Coat Finish
* Prices are subject to change. Tax and other fees not shown in above price estimate.