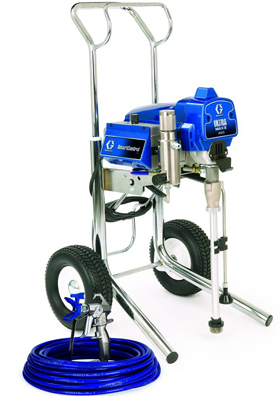 The Ultra Max II 495 features the leading technology and performance of Graco 's larger Ultra Max II models. The Ultra Max II 495 is the sprayer of choice for professionals who need a higher output sprayer for daily use on residential jobs. It is perfect for painting and texture contractors.
FEATURES
Proven Endurance™ Pump for exceptional pump life with QuikAccess™ intake valve to easily clean or clear debris.
SmartControl™ 2.0 Pressure Control - advanced microprocessor control delivers a consistent spray fan at all spraying pressures.
Exclusive Brushless DC Motor - delivers higher horsepower per wall amp.
Chrome Plated Welded Steel Hi-Boy Cart with TiltBack™ cart design - withstands rugged environments.
Easy Out™ Pump Filter - reduces tip clogs and ensures quality finish.
APPLICATIONS
Paint Spraying Equipment for Residential Interior
Residential - Exterior
Light Commercial Painting
Property Maintenance & Garage Doors
* Prices are subject to change. Tax and other fees not shown in above price estimate.