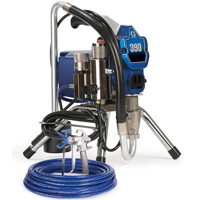 This 390 is equipped with simple mechanical consistent pressure control. Equipped with a swivel inlet suction hose to reach buckets or cans and stands upright so it wont tip cans over. It is easily removed, with no tools, for cleaning or accessing inlet ball and is made of durable aluminum to be light weight and rust free. The 390 airless paint sprayer's reliability make this Graco's most popular small electric sprayer.
Like the rest of the current Graco Contractor Series sprayers the 390 airless now has an Easy Out Pump Filter which filters from the inside out so it wont collapse or get stuck when removed. Also, the filter comes out with the cap for less mess to help ease cleaning. Replacement filters are available in several mesh sizes to help fine tune your sprayer to the material you are spraying.
The Graco New FTx 4-finger gun that comes with this sprayer has a in-gun filter that resides in the handle to help ensure a clean spray. Replacement filters are available in 2 mesh sizes - standard 60 mesh for most applications and 100 mesh for fine-finish work. You simply can't go wrong with this quality sprayer made by the largest manufacturer of airless paint equipment.
FEATURES
The 390 is a solid workhorse built for the professional just "starting out." Light-weight and portable-at only 30 pounds it's easy to lift and carry.
Ideal for residential jobs, and the best value in small electric sprayers.
Endurance Pump with long-life V-Max packings, Chromex rod and hardened stainless steel cylinder.
QuikAccess intake valve to easily clean or clear debris. Consistent pressure control delivers quality spray pattern with minimal fluctuation.
* Prices are subject to change. Tax and other fees not shown in above price estimate.