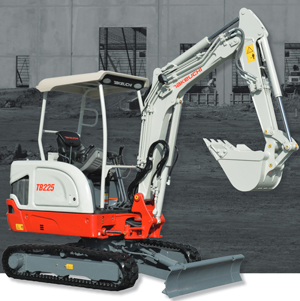 TB225 Compact Excavator - The TB225 features all steel construction, a spacious operator station, smooth hydraulic pilot joystick controls that deliver precise responsive controls and best in class engine output. The TB225 provides outstanding arm and bucket breakout force, dig depth, reach and lifting capacity for maximum productivity making it a great choice for the most demanding applications. Additional features include automatic fuel bleed system, standard auto deceleration, a large wraparound counterweight and hydraulically retractable track frame that can be adjusted from 1,100 mm to 1,500 mm. The operator is protected by a TOPS / ROPS / OPG cab and canopy that keeps the operator safe and comfortable on any job site.
FEATURES
Powerful Dig Forces – Takeuchi's excellent arm and bucket power provide the perfect combination of power, speed, and versatility at your fingertips.
Automatic Step Down Travel Motors – Provide torque on demand when pushing, climbing, or turning in high speed mode.
Standard Auxiliary Hydraulics – Simplify installation of hydraulic attachments improving productivity and limiting downtime.
Shut-off Valve – Simplify attachment installation and limit the release of hydraulic oil.
The engine output of a much bigger machine – allows more power and increases productivity.
Retractable undercarriage which can be adjusted from 1,100 mm to 1,500 mm – allow the machine to be configured for excellent working stability and optimum performance. Dozer blade width is easily adjusted by using retained pin.
TOPS / ROPS / OPG Cab and Canopy – provides the operator with greater peace of mind.
Triple Flange Track Rollers – provide increased roller to rail contact improving track retention.
Heavy Duty Counterweight – Offers wrap around protection and contributes to the excellent stability.
Weld Quality – High quality steel and superior weld quality ensure durability and longevity.
All Steel Construction – The engine hood and right access panel are all steel for increased durability.
Heavy Duty Blade – Integrated gusset reinforcements and large blade cylinder give you the strength and durability you expect from the class leader.
Folding Foot Pedals – Can be placed in the stowed position for additional foot space improving operator comfort.
Suspension Seat – Provides back rest adjustment and weight adjustment along with fore and aft movement and is also equipped with a 2 inch retractable seat belt.
Pilot Operated Joystick Controls – deliver precise responsive controls, and are low effort reducing fatigue.
Easy-to-Read Multi-Informational Display – provides the operator with the status of machine's critical functions.
Rear Engine Hood – allows access to the dipstick, double element air cleaner, pilot line and fuel filter, pump group and coolant expansion tank.
Right Access Panel – provides excellent access to the battery, fuel fill and hydraulic tank.
Lockable Fuel Fill – is convenient and secure. A remote gauge is also provided for assistance when refueling. The system also uses a self bleeding system to provide easier restarts if the machine is run out of fuel.
Keep it Clean – Improved fuel filtration and the use of low sulfur fuel will ensure proper engine performance.
The battery and electrical components are conveniently located under the operators seat along with the pattern change valve.
* Prices are subject to change. Tax and other fees not shown in above price estimate.