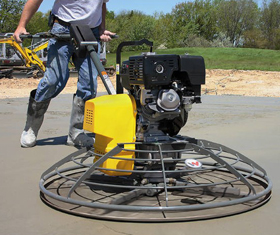 CT 48-8A Walk-behind Trowel Designed and built with the most advanced technology, Wacker's walk-behind trowels offer high-quality concrete finishing plus added operator safety. With a trowel diameter of 48-inches, the models of the CT 48 trowel range are ideal for finishing medium large areas. The trowels are optimally balanced, therefore they can be effortlessly controlled in the wide range of speeds. The transmission brake, electronic safety switch and engine speed sensor offer additional triple protection for the user. In an emergency situation the device will simply switch off and the handle will come to a stand-still after no more than a three-quarter turn. Furthermore, the unit will only start if the throttle lever is set to zero. This prevents an inadvertent rotation of the handle on start-up.
FEATURES
Dynamically balanced trowels (when blades are turning) offer nearly effortless operation.
Optimum weight distribution reduces the lateral force from the trowel for reduced operator fatigue.
Trowels feature a 30-degree blade pitch for better concrete burnishing.
For maximum flexibility, engine type, trowel diameter, and handle type can be selected to meet individual
preferences or job site conditions.
Guard ring features tubular framing for easy cleaning and maintenance.
* Prices are subject to change. Tax and other fees not shown in above price estimate.