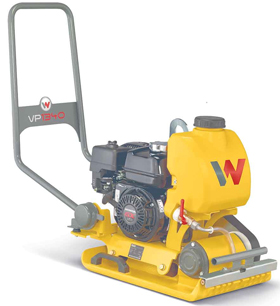 These Wacker Neuson vibratory plates offer functionality and performance at a value price. The compact design allows for compaction of mixed soils in the narrowest of spaces – even in extremely narrow trenches. The guide handle with vibration dampening means longer working hours and less fatigue for the operator.
FEATURES
These plates provide optimum results for a variety of compaction applications. Asphalt models are suitable for hot or cold asphalt applications.
Guide handle with patented vibration dampening increases operator comfort and reduces fatigue.
Specially designed exciter bearings reduce maintenance and improve productivity.
Ergonomically designed lifting handles make loading and unloading from transport vehicles easier for the operator.
The large capacity water tank features wide fill opening on the asphalt plate models for easy operator use and improved productivity.
Two engine options available: a Honda engine or the technically superior Wacker Neuson WM170 engine.