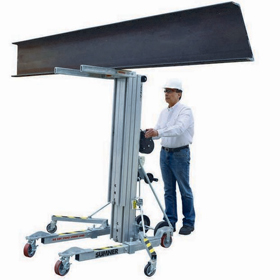 The Sumner 2615 Axel raises materials weighing up to 1,100 lbs / 500 kg. With the forks in the down position, items can be raised to a height of 14 ft and 5 in. With the forks reversed in the higher position, items can be raised to 16 ft and 5 in. The minimum load height is 4 inches with a ground clearance of 2.5 in.
This lift is easy on operators with a two-speed winch and adjustable steering handle. Plunger pins allow for easy adjustments on the fork and legs. While in use, the lift's length is 62 inches and the width is 74.5 inches. The working height is 76 inches.
The Sumner 2615 Axel fits through most doors and folds up for easy storage or portability. It also features a lifting hook for cranes. When it is folded, the width is 31.5 in, length is 34 in, and height is 76.5 in. The lift features useful wheels to move it in the folded position and even roll it into a vehicle. The overall weight of the lift is 346 pounds.
FEATURES
Rolls through standard doorways & tail gates
Load cable positioned away from operator
No tools needed - no loose parts
Large 7/32" (5.5mm) load cable