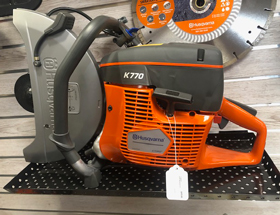 Husqvarna K770 Cut Off Saw with No Vacuum Attachment HQ Item No. 967682101 -
The Husqvarna K 770 is a powerful all-round power cutter with features that make it one of the best power cutters on the market. Equipped with semi-automatic SmartTension™ system allows for optimal power transmission, minimum wear and maximum belt life. The light weight, outstanding power-to-weight ratio, the reliable start and exceptionally low vibrations mean less strain and maximized productivity. Suitable for road work and easy to cut in a straight or curved track or close to sidewalk when used with KV7 trolley.
FEATURES
Easy to connect - The 2'' hose is easily connected to an external dust extractor.
Effective cutting - The powerful engine paired with the external dust extractor enables superior dry cutting performance.
Maximized cutting depth - The integrated gearbox, positioning of the pulley and the 60 mm flange enables a cutting depth of 123 mm, very close to that of a 14" machine.
Smart and effective protection - The double foldable protections enable better dust handling and fold into the blade guard during operation.
Easy and optimal belt tensioning - The semi-automatic Smart Tension minimizes the risk of under- and over tensioning
Light and powerful - A light, compact and powerful machine with superior power-to-weight ratio.
Heavy-duty cutting arm - The new-designed cast magnesium crankcase has a three-bolt joint to attach the cutting head, enabling higher torsional rigidity than the previous two-bolt solution.